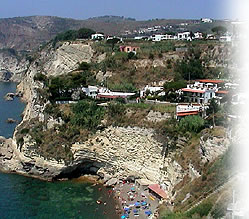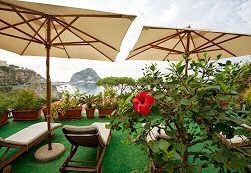 Almost all the rooms have a view of the sea, each has its own bathroom and a terrace or balcony. Breakfast is served in the restaurant/bar which enjoys a privileged position overlooking the bay
Everything is in perfect harmony with the character of a family-run establishment: a large garden with solarium; deck chairs, and beach sun-shades all included in the price.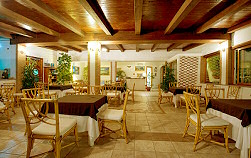 B&B CASA GERARDO is situated on the enchanting Sant'Angelo Bay, in a setting of the characteristic Mediterranean vegetation, very close to the typical sea-side village and the Cava Grado beach.



Its large terraces with sea-views and the private areas in an extremely well cared-for garden makes it possible to spend unforgettable leisure moments in total peace and relaxation.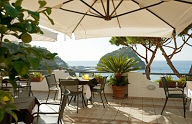 Thermal bath treatment is available at the Tropical Gardens which are a five-minute walk away. The hotel's customers will be granted a special discount on the admission ticket and on the thermal treatment.
(26 Beds)
The hotel can be reached by car. Free parking area: 150 mts to the Hotel.
Payment parking: 50 mts to the Hotel